Via @ClubSTEPHENKING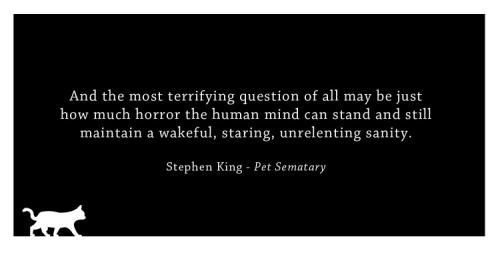 There was a time that horror only existed in books and movies. These days, horror is a part of everyday life. We read about it, see it on television, watch horrific YouTube images of beheadings, war, famine….you name it. This is old news and I have written about it in the past.
Today, as I scrolled down my Twitter timeline, it was business as usual….an airplane crash, a train wreck, a pile up on the freeway, riots, war, refugees, home invasions, shootings….never-ending stories of suffering. Finally I saw this quote from one of my favorite Stephen King novels……..and I thought to share it, because I really wonder how much more can the human race, the world, withstand; how much horror until we've learned the lesson – be kind to each other, care about our planet, care about a prosperous, peaceful future, reach out with a loving hand, NOT a gun or knife… In the sixties Joan Baez sang the song about the flowers…you remember that one? She sang: "When will they ever learn," yes, indeed, when will we learn.
There is so much good in the world and we try so desperately to live our lives in a good, honest way inbetween all the sorrow and pain. Every single day you find inspiration, tips on healthy living, wellbeing, how to combat stress, etc, etc…..yet, all that is just dealing with the symptoms, the healing superficial and often people treat change as a phase, a whim. You want to exercise, so you enroll in a gym, go once and then stop; you decide to be kinder to others, you do it for a few hours, then nearly bite someone's head off for cutting in front of you at the supermarket check-out. The problem is, our subconscious are so overwhelmed by all the horror in the world, that  it finds it hard not to conform. It would take action, commitment, for us to change.
I'm a great believer in the ability of people to change for the better…maybe I'm naive, but frankly, I don't care what people may think of my views. I am convinced that we brought all this horror upon ourselves, so we can indeed change it, we can make it better. We MUST change, we should stand up for goodness, our right to live peaceful lives and we must do so without force; violence begets violence. Change begins in the individual. You must make the choice. I know, for me, on the outside, only being a spectator of the horrors, it is easy to say these, seemingly empty, words but someone has to speak up and, or at least, try to show people the possibility of change.
It begins with me, I must commit myself to be kinder, more caring, accepting, respecting others for who they are. We are all different, and we should cherish the unique nature of each person, of each individual's belief system, sexual orientation, gender and race. We are in the world, on this earth together…..together we must stand against the horror. Make the choice, let it begin in you, in me, now. Let us, once again, have some faith in the basic goodness of humankind. That is, after all what it boils down to, FAITH. Change may seem impossible, even to me, the ever-optimistic idiot, but with faith, anything is possible. We may think that we can, perhaps, bring about change in our own lives, but changing the minds of those against us, the people that cause all the horror and evil in the world, well….impossible. But with faith, don't you think it is actually possible?
After all, faith is the one thing that, in my opinion, we lack in the world….we've stopped believing long ago. Have faith – faith in each other, faith in our ability to bring change, faith in the possibility that we can actually live in peace and harmony with one another, despite our differences, faith that we can change the heart of even the darkest, most evil person on earth…..stop looking with your eyes at the horrors, it will consume you, drive you insane….we cannot, as the quote above states, take it much longer. We are on the verge of become an insane world, so filled with misery that we cannot find our way in the darkness anymore. So, close your eyes for a moment to the horror, and look to the inside, YOUR soul, YOUR heart…..find that little seed of faith and let it grow…towards hope, towards change. Now look at the world from a different perspective and try to find the good things, the hopeful things around you, let THAT grow………who knows what you will be able to achieve.
Don't tell me you can't, at least, give it a shot. The alternative is bleak: stay ignorant, stay consumed by the world of horror and bear witness to mankind's demise. Your choice…..have faith, or not….